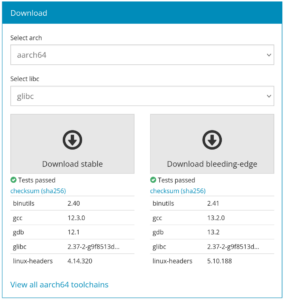 We are happy to announce that we have just published a new update of our freely available toolchains at toolchains.bootlin.com, version 2023.08.
For the record, we provide pre-built cross-compilation toolchains that work on x86-64 Linux machines, and targeting 43 different CPU architecture variants, with support for all 3 major C libraries: glibc, musl and uClibc-ng. For each toolchain, we provide two versions: a stable one that uses GCC/binutils/GDB versions next to the last, and a bleeding-edge one that uses the very latest GCC/binutils/GDB versions.
In this 2023.08 release, we have:
Updated the bleeding-edge toolchains to gcc 13.2, binutils 2.41, gdb 13.2, kernel headers 5.10, glibc 2.37, musl 1.2.4 or uclibc-ng 1.0.43
Updated the stable toolchains to gcc 12.3, binutils 2.40, gdb 12.1, kernel headers 4.14, glibc 2.37, musl 1.2.4 or uclibc-ng 1.0.43
Marked the sparcv8 toolchain as obsolete as sparc support in GCC has been broken for several releases, and the last working version of GCC for sparc has been dropped from Buildroot
A special thanks to Romain Naour from Smile who helped investigate and resolve some of the issues encountered in the preparation of those 2023.08 toolchains.
If you encounter any issue in the usage of those toolchains, or miss the support for a specific feature or architecture variant, let us know through the issue tracker. We hope those toolchains will continue to be useful to the community.