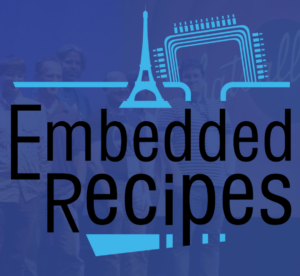 The Embedded Recipes conference was started a few years ago, modeled after the popular Kernel Recipes conference. Both events follow an unusual but very interesting format: a single-track conference, with a carefully chosen set of talks/speakers, and a limited number of attendees. These "design choices" give those events a different atmosphere than larger events, whether they are corporate-driven or community-driven.
This year, the Embedded Recipes conference will take place in Paris on September 28-29, with two full days of talks, but also opportunities to connect which are facilitated by the smaller audience and single-track nature of the event. The schedule is now online.
Bootlin has decided to support this year's edition by being one of the Chef sponsors, contributing financially to the sustainability of this conference. In addition, Bootlin engineer Romain Gantois will give a lightning talk about Snagboot, our recently released open-source and HW agnostic tool to recover and reflash embedded platforms.
Finally, a number of Bootlin engineers will participate to Embedded Recipes: Michael Opdenacker, Paul Kocialkowski, Miquèl Raynal, Théo Lebrun, Romain Gantois and Thomas Petazzoni. Michael will also be present for Kernel Recipes at the beginning of the week.
If you're interested in meeting with Bootlin folks, do not hesitate to reach out. Remember: we are still hiring, and looking for engineers with embedded Linux and/or Linux kernel experience to join our team. Meeting at this conference would be a great opportunity to start the conversation!
In the mean time, we can only recommend one thing: plan on attending the conference, and register now!