Learn how to build and run embedded Linux systems with Buildroot.
Course details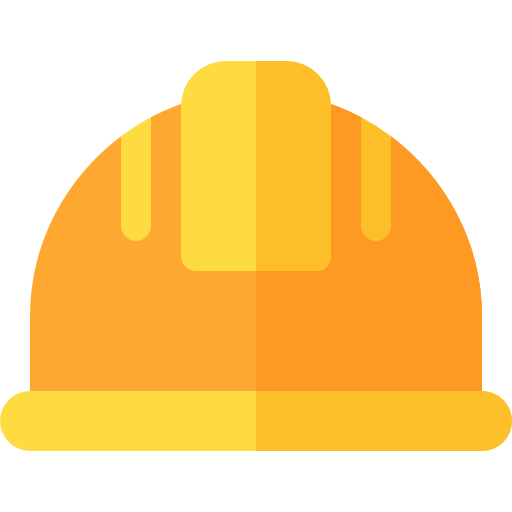 Duration: 3 days / 24 hours (on-site) – 5 half days / 20 hours (on-line)
Training materials:
Written language: English
Available oral languages: English and French.
Types of sessions
Dates of public on-line sessions
Type
Dates
Time
Duration
Language
Expected
trainer
Cost and registration
Buildroot (agenda)
Oct 2, 3, 4, 5, 6, 2023
14:00 – 18:00 (Paris, UTC+2)
08:00 AM – 12:00 PM (New York, UTC-4)
20 h
English
Thomas Petazzoni
Discount: 569 EUR*
Regular: 669 EUR*
Register
Additional sessions at future dates will be announced progressively. We generally announce new sessions when existing ones are either full or already passed.
*The price is excluding VAT. The online shop charges VAT, except for businesses outside of France if they provide valid company information at registration time. Businesses in France, and individuals registering by themselves must pay VAT.
The discount rate is applicable at the following conditions:
Booking at least 1 month prior to the training session start
Booking and payment made online using credit card
Limit of 6 seats per training session at the discount rate
If you are unable to register through our online shop, do not hesitate to contact us, we will be able to provide a training contract and offer alternative payment methods.
Registration on the online shop remains available until the session starts, subject to seat availability.
Target audience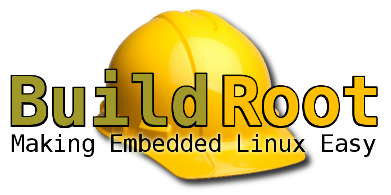 This course targets engineers having existing knowledge about embedded Linux who wish to use the Buildroot build system to automate the build process of their embedded Linux system, make it easier and fully reproducible, benefit from thousands of pre-existing packages and create custom Linux systems perfectly adapted to their products.
Objectives
Be able to understand the role and principle of an embedded Linux build system, and compare Buildroot to other tools offering similar functionality.
Be able to create a simple embedded Linux system with Buildroot: create a configuration, run the build, install the result on an embedded platform.
Be able to adjust the Buildroot configuration to build an embedded Linux system tailored to specific needs: choice of the cross-compilation toolchain, management of the Linux kernel configuration, customization of the root filesystem contents, etc.
Be able to create new packages in Buildroot to integrate additional applications and libraries into the embedded Linux system.
Be able to use the tools offered by Buildroot to manage and analyze the build: security vulnerability tracking, license compliance, etc.
Be able to develop and debug Linux user-space applications in the context of Buildroot.
Be able to interact with the Buildroot open-source community, and to understand the internals of Buildroot.
See the detailed agenda. At the end of this course, you will be ready to use the Buildroot to develop your own embedded Linux system and the applications running on it.
Bootlin's expertise on Buildroot
Bootlin is a major contributor to the Buildroot upstream project, with more than 5400 patches merged as of March 2021, include the ones merged under its former name. Our engineer Thomas Petazzoni alone has contributed close to 5000 patches. He has gathered an extensive knowledge of Buildroot and its internals, being one of the primary authors of the core infrastructures of Buildroot. He is a major participant to the Buildroot community, organizing the regular Buildroot Developer Days, supporting users through the mailing list and on IRC. Last but not least, Thomas is one of the four co-maintainers of the Buildroot project: he is in charge of reviewing, approving and merging contributions made to Buildroot by the open-source community.
In addition, Bootlin has used and is using Buildroot in a significant number of customer projects, giving us an excellent view of Buildroot usage for real projects. This feedback has been driving some of our Buildroot contributions over the last years.
It is this Buildroot expertise gathered both in the community and through customer projects that Bootlin is offering in this training course.
Training materials
All the training materials that we use during this course are freely available. Before the session, you can then check that they correspond to your needs.
Practical labs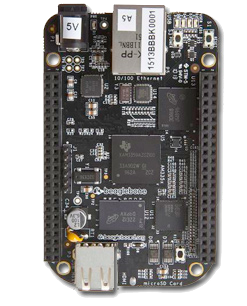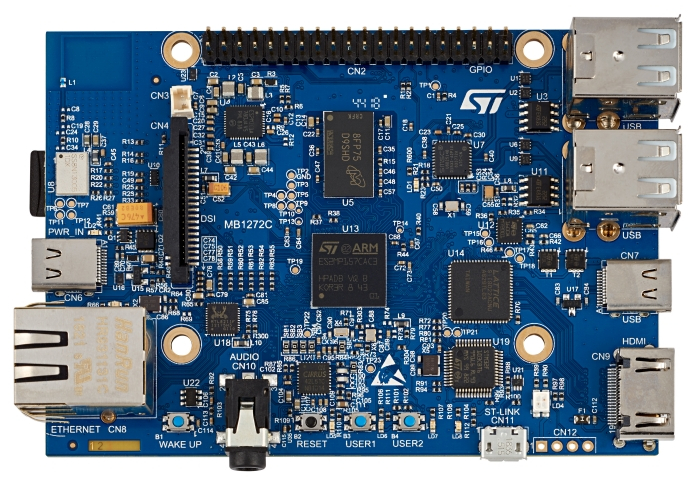 In our on-site courses, each lecture is followed by a practical lab done by the participant. The practical labs represent 50% to 60% of the whole course time. Labs are performed an embedded ARM board, either the BeagleBone Black or one of the STM32MP157 Discovery boards (STM32MP157A-DK1, STM32MP157D-DK1, STM32MP157C-DK2, STM32MP157F-DK2). You will use it to boot the root filesystems that you build with Buildroot, and to run and debug the custom applications compiled with it. This experience will be useful for dealing with any type of board.
In our on-line courses, the practical labs are performed as live demonstrations by the trainer. Participants can ask questions at any time. Optionally, the participants who have access to the necessary hardware accessories can reproduce the labs by themselves.
Prerequisites
Knowledge and practice of UNIX or GNU/Linux commands: participants must be familiar with the Linux command line. Participants lacking experience on this topic should get trained by themselves, for example with our freely available on-line slides at https://bootlin.com/blog/command-line/
Minimal experience in embedded Linux development: participants should have a minimal understanding of the architecture of embedded Linux systems: role of the Linux kernel vs. user-space, development of Linux user-space applications in C. Following Bootlin's Embedded Linux course allows to fulfill this pre-requisite.
Minimal English language level: B1, according to the Common European Framework of References for Languages, for our sessions in English. See the CEFR grid for self-evaluation.
Hardware requirements
For on-line courses:

Computer with the operating system of your choice, with the Google Chrome or Chromium browser for videoconferencing.
Webcam and microphone, from an audio headset
High speed access to the Internet
Optionally: the hardware accessories needed for the practical labs, if you want to reproduce the practical labs by yourself. Note that this is not mandatory: you can follow the course without those hardware accessories, as the trainer will perform the practical labs as live demonstrations.

For on-site courses:

Training room
Video projector
One recent PC computer for each desk (1 or 2 persons) installed with Linux. See the training agenda for detailed requirements.
Unfiltered and fast connection to the Internet
Bootlin provides the hardware accessories for the practical labs for the duration of the course
Customer feedback

The format of the course is probably battle tested because it is hard to find something to improve. A lot of information condensed in one week and yet I retained most of it. Great job.

Participant to a Buildroot training course, February 2022

This course provides all the details needed to get up and running with buildroot surprisingly quickly. The slides are outstanding coupled with Thomas' vast knowledge of embedded Linux results in a course that is very easy to recommend to others.

Participant to a Buildroot training course, February 2022

Lectures were extremely interactive, not just death-by.power-point. The instructor went over and over again in the actual code/filesystem to show examples of real use case scenarios.

Participant to a Buildroot training course, February 2022

Thomas is excellent in keeping the interest high and eager to answer any question. It does not just read the slides, he provides constantly real world examples in the actual code and shows how the concepts are applied. Kudos.

Participant to a Buildroot training course, February 2022
By the way, you can also see evaluations from previous sessions. In the same way we are transparent with our training materials, we share all the evaluations that we collect, not only the best ones.
Participants with disabilities
Participants with disabilities who have special needs are invited to contact us to discuss adaptations to the training course.
Contact
For any question, registration or comment, you can contact us:
Further details about our courses