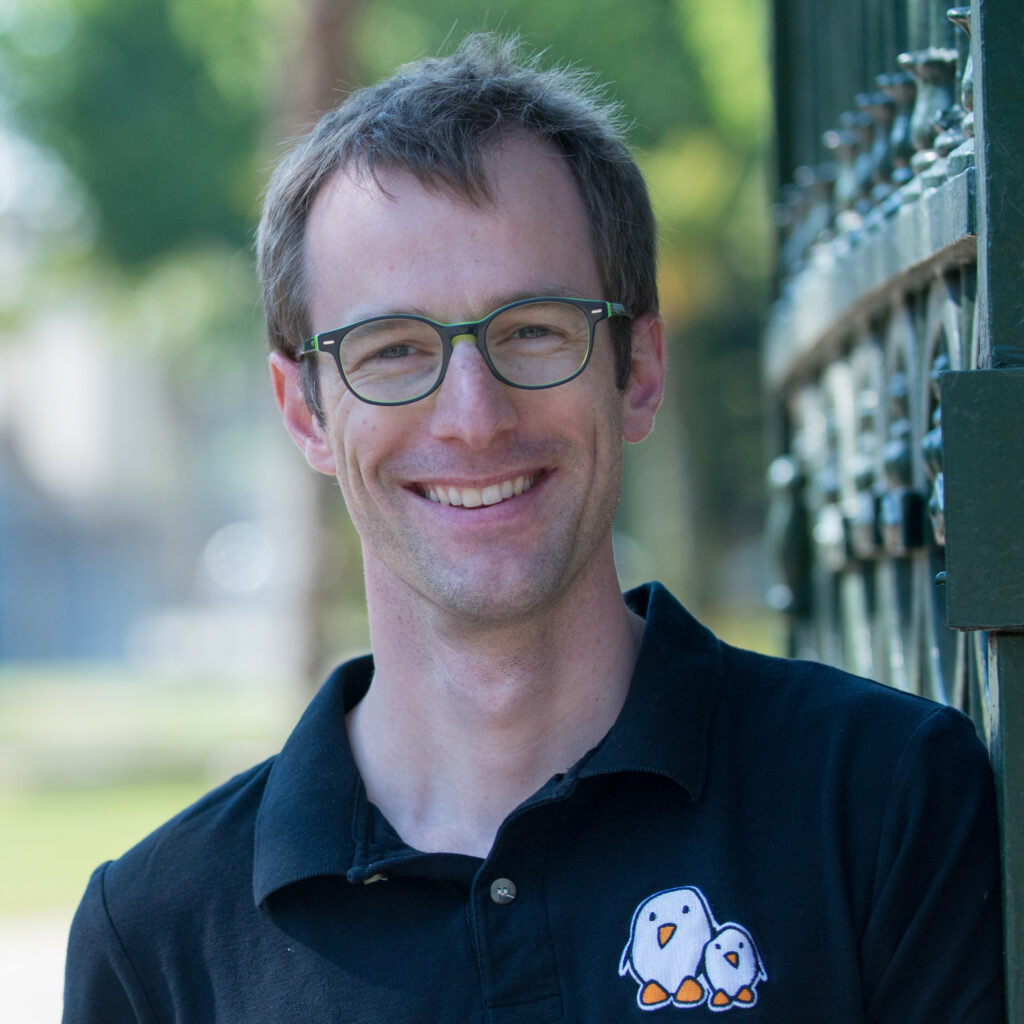 Thomas is Bootlin's Chief Technical Officer.
Thomas started studying and developing operating systems in 1998, and also had been very active promoting Free Software since then.
Thomas' best resume is Google. See by yourself: http://google.com/search?q=thomas+petazzoni.
Linux Kernel experience
Thomas has been working with the Linux kernel for several years:
Since 2008, embedded Linux and kernel developer, trainer and consultant at Bootlin. He is one of our lead kernel developers, took care of our biggest customer projects and made many contributions to the Linux kernel. Thomas also performed multiple training sessions in multiple countries and spoke at international embedded Linux conferences.
In 2005-2007, while working as a R&D engineer at Seanodes, a French company that developed a storage virtualization solution for clusters based on Linux, design and development of core parts of the product inside the Linux kernel interacting with the block device layer.
In 2004-2005, while working for a research and development laboratory of Mitsubishi Electric as an intern, port of the Linux 2.6 kernel to an internally-developed MIPS platform (base platform support, serial driver, Ethernet driver, multiprocessor support) and creation of compiling toolchains and optimized filesystem images.
Participating to several technical mailing lists about the Linux kernel.
Giving public presentations about the Linux kernel in technical conferences.
Very good knowledge about the community (people, projects, resources and rules), thanks to conferences and mailing lists, and to reading LWN.net.
Embedded Linux experience
As described above, Thomas Petazzoni has performed many embedded Linux and kernel training sessions around the world. Of course, he has acquired wide experience on embedded Linux system development. Here are some of the topics he worked on:
Cross-compiling applications
Construction of cross-compiling toolchains
Embedded Linux system build tools. In particular, he is one of the maintainers of Buildroot.
System design, architecture and implementation
System debugging and profiling
Boot time reduction
Graphical library integration and support
Audio system integration
On-site consulting and technical support.
Buildroot experience
Thomas is a major contributor to the Buildroot project since 2008. Buildroot is a tool that automates the process of building a complete embedded Linux system: cross-compiling toolchain, userspace libraries and applications, root filesystem generation, kernel compilation. Through this participation in Buildroot's community, Thomas has gained a good experience in the cross-compilation issues and how to efficiently re-use existing open-source components in embedded systems. See this page to see Thomas's contributions to the project. Thomas also contributed to Buildroot back in 2004, at which time he submitted a few fixes, and more importantly, started to write the Buildroot documentation.
Operating System experience
Founder of the KOS project in 1998, one of the main developer until 2003. The KOS project aimed at creating a simple operating system for educational purposes.
From 2004 to 2006, one of the two developers of the SOS project. SOS is also a simple operating system, but its originality is the publication of articles in the French GNU/Linux magazine thoroughly describing its development in a step-by-step fashion.
In 2003, while working at Nexwave Solutions as an intern, a French company that develops a component-based operating system for embedded devices, design and development of a brand-new device driver subsystem, and port of several character and block device drivers on top of the new subsystem, on several architectures.
Free Software contributions
Since 2000, active contributor to the Free Software community. In particular:
Reported and followed up lots of issues about Free Software and GNU / Linux distributions.
Development of MapOSMatic, MyPixmania, Lp4all, contributions to Python Sun RPC bindings, to the Demexp project, creation of packages for the Debian distribution.
Active participation to the French Free Software community : chairman of the Operating System Development or Embedded Systems topics at the Libre Software Meeting, very active participation to several local GNU/Linux user groups, creation of Agenda du Libre, a calendar for Free Software related events in France
Languages
Thomas is fluent both in English and French. He has also learnt a bit of German.
Back to the Bootlin staff page.