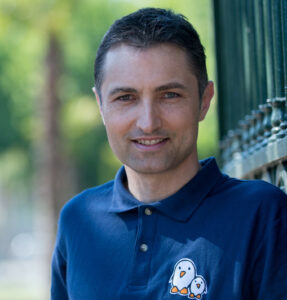 Michael is Bootlin's founder. He has been Bootlin's CEO until the company acquisition in 2021, at which point Michael continued his activities as an embedded Linux and Linux kernel engineer and trainer.
Michael has 20 years of experience using Unix and GNU / Linux and promoting Free Software. He has been working with embedded Linux since 2003 and created the company in 2004.
Embedded Linux experience
Michael has been working on Embedded Linux since 2003:
Creating the Bootlin company, to support individuals and organizations in using Linux and Free Software in embedded systems.
Creating training materials and presentations. Performing embedded Linux, kernel and boot time reduction training sessions for major embedded platform suppliers and embedded system makers throughout the world.
Doing consulting and support work on embedded Linux systems and developing demos.
Participating to handhelds.org's projects to port Linux on PDAs, writing kernel drivers, documentation and creating root filesystems. First Linux boot on the HP iPAQ h2200 device.
Working on system startup time. Public contributions so far: embedded Linux optimization presentation, Busybox readahead applet.
Working on flash filesystem benchmarks and reporting results at embedded Linux conferences.
Extensively working on Linux on TI OMAP processors, through contributions to the Ubuntu on ARM project, performance benchmarks, training and writing documentation.
Regularly making public presentations in national and international technical conferences.
Free software community
Since 2000, active contributor to the Free Software community (check on Google!)
2001-2003: Maintainer of the GNU Typist project. Took care of makefiles (autoconf / automake), translations (gettext), documentation (makeinfo) and releases.
2003: Author of Minido, a simple yet generic task manager written in GTK2
Since 2009, member of the organization committee of the European edition of the Embedded Linux Conference, a key event for the embedded Linux community.
Sharing information and technical investigations with the community, through the Bootlin's blog and Twitter. Also contributing to OMAPpedia and to the Embedded Linux Wiki
Reported and followed up lots of issues about Free Software and GNU / Linux distributions. Contributor to Ubuntu.
Thanks to conferences and to community and customer projects, Michael knows many community contributors, users, silicon vendors and system makers around the world.
Microelectronics
Michael is also very familiar with the microelectronics industry:
1995-2000: worked for STMicroelectronics, Central R&D, Design Automation Department, Grenoble, France. Developed I/O and memory cell generators, as well as cell library validation tools. Trained and supported users in France, Italy and India.
2000-2003: worked for Texas Instruments, Wireless Business Unit, Nice, France. Took care of front-line support on chip physical design tools (Synopsys, Magma, internal tools). Migrated design flows and compute farm to Linux servers.
Skill highlights
Operating systems: Unix and GNU/Linux on desktop and servers. Embedded Linux.
Embedded Linux: kernel, U-boot, GRUB, root filesystem creation, cross-compiling, block and flash filesystems, real-time, boot time, size and power optimizations.
Development: Linux device drivers and board support packages
Programming languages: C, Python, Tcl/Tk
System administration: Apache, iptables, kvm and Xen virtualization, Postfix
Communication: speaking at international conferences, creating training materials, blogging and twitting.
Community: organizing the ELC-Europe conference. Past GNU project maintainer.
Management: general manager at Bootlin.
Languages: fluent in English, Spanish and French. Spoken and written practice of Italian, Dutch and Portuguese. Notions in German, Hindi, Finnish and Japanese that I would love to develop!
Back to the Bootlin staff page.