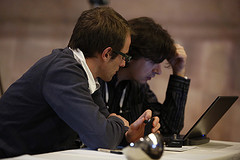 Early last week, version 3.8 of the Linux kernel has been released by Linus Torvalds. The KernelNewbies web site, has, as usual, a great summary of what's new in this release, together with lots of links to the relevant LWN articles. With 12394 commits, 3.8 has been the busiest ever kernel release cycle, the previous record being held by 2.6.25 with 12243 commits.
Despite this huge activity, Bootlin has been the 17th most active employer during the 3.8 cycle, with 128 commits merged into the mainline Linux kernel, representing a bit more than 1% of the total number of commits. See the statistics by employer at http://www.remword.com/kps_result/3.8_whole.html and in the traditional LWN article. This puts Bootlin before Nvidia, Qualcomm, ARM or Oracle in number of commits, and just a few commits behind Freescale. See the Git repository for the list of our contributions.
In detail, Bootlin contributions for 3.8 have been:
Through these contributions, Bootlin have gained a good expertise in support for ARM SoCs and boards inside the Linux kernel. If you are interested in having us help you bring the support of your ARM board or ARM SoC into the mainline Linux kernel, do not hesitate to contact us, you will be directly answered by our engineers doing Linux kernel development!