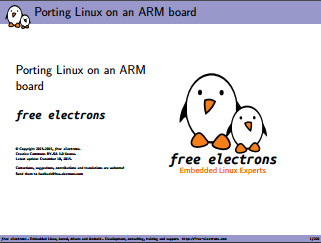 On December 10th 2015, Bootlin engineer Alexandre Belloni gave a half-day seminar on the topic of Porting Linux on an ARM board in Toulouse, France. This seminar covers topics like porting the bootloader, understanding the concept of the Device Tree, writing Linux device drivers and more. With ~50 persons from various companies attending and lots of questions from the audience, this first edition has been very successful, which shows an increasing interest for using Linux on ARM platforms in the industry.
We are now publishing the 220 slides materials from this seminar, available in PDF format. Like all our training materials, this material is published under the Creative Commons BY-SA 3.0 license, which allows everyone to re-use it for free, provided the derivative works are released under the same license. We indeed re-used quite extensively parts of our existing training materials for this half-day seminar.
We plan to give this half-day seminar in other locations in France in 2016. Contact us if you are interested in organizing a similar seminar in your area (we are happy to travel!).