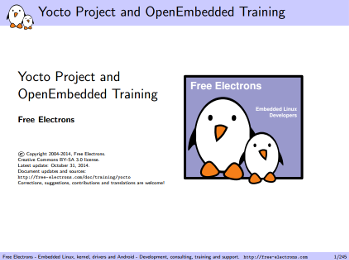 As we announced in out latest newsletter, we recently launched a new Yocto Project and OpenEmbedded development training course.
The first public session will take place in Toulouse, France on November 18-20 and we still have a few seats available. We can also deliver on-site sessions at the location of your choice, see our Training cost and registration page for more details.
However, what brings us here today is that we are happy to announce the release of all the training materials of this new course: like all Bootlin training materials, they are available under the Creative Commons Attribution Share-Alike license.
Fully committed to its knowledge sharing principles, Bootlin has chosen to publish those materials even before the first session has taken place.
The materials available are:
We of course welcome reviews, feedback and comments about these materials, in order to improve them where needed. Send us your comments!