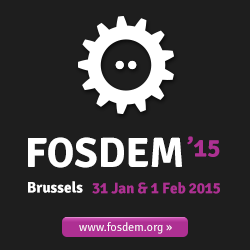 For many open-source developers based in Europe, the FOSDEM is probably the most useful, interesting and exciting conference. Once again this year, several Bootlin engineers will attend the conference:
Maxime Ripard, mainly involved in Allwinner related kernel development, as well as more recently OpenWRT support for Marvell platforms
Antoine Ténart, involved in Marvell Berlin related kernel development, and one of the developers of our Yocto Project and OpenEmbedded training course
Alexandre Belloni, involved in Atmel processors related kernel development, and also one of our Yocto expert.
Thomas Petazzoni, involved in Marvell EBU processors related kernel development, and doing a lot of Buildroot contributions.
If you are attending, and want to know more about Bootlin, or discuss career or project opportunities, do not hesitate to contact us prior to the conference. Many of us will probably attend a significant number of talks from the Embedded track, so it should be easy to find us.
Last but not least, Alexandre Belloni will be giving a talk about Starting with the Yocto Project, which will take place on Sunday, at 3 PM in room Lameere.
Finally, Thomas Petazzoni has organized and will participate to the Buildroot Developers Meeting organized right after FOSDEM, and sponsored by Google and Mind.