While Bootlin is largely known for its expertise with the Buildroot and Yocto/OpenEmbedded build systems, we do also work with other build systems for customer projects. Specifically, in 2019, we have worked for one of our customers on extending OpenWrt to add support for two security features: dm-verity and SELinux, which we have contributed to upstream OpenWrt. In this blog post, we provide some details about those features, and how they are integrated in OpenWrt.
dm-verity support
dm-verity is a device mapper target that allows to create a block device on top of an existing block device, with a transparent integrity checking in-between. Provided a tree of per-block hashes that is generated offline, dm-verity will verify at run-time that all the data read from the underlying block device matches the hashes that are provided. This allows to guarantee that the data has not been modified, as a root hash must be passed from a trusted source when setting up the dm-verity block device at boot time. If any bit in the storage has been modified, the verification of the hashes all the way up to the root hash will fail, and the I/O operation on the block of data being read from storage will be rejected. Therefore, dm-verity is typically used as part of a secure boot strategy, which allows the root hash to be passed by the bootloader to the kernel, where the bootloader and kernel themselves are verified by other means. Also, due to the nature of the integrity verification, dm-verity provides a read-only block device, and will therefore only work with read-only filesystems.
dm-verity was also presented in our Secure Boot from A to Z talk the Embedded Linux Conference 2018, from slide 28.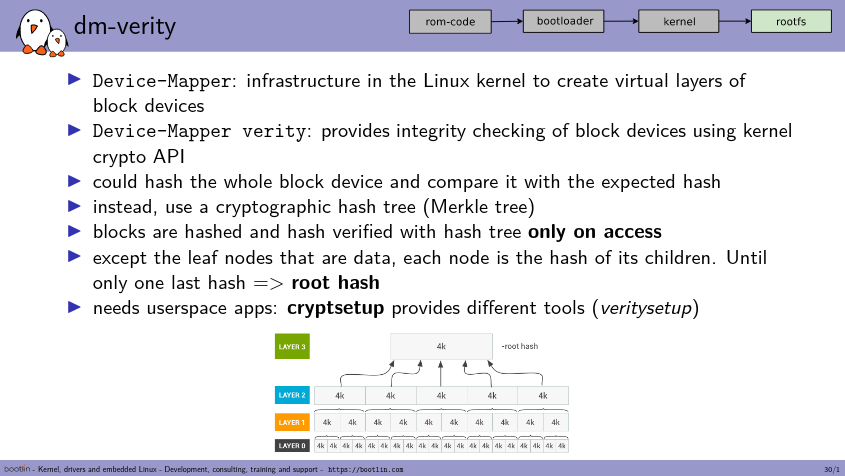 We implemented an integration of this mechanism in OpenWrt, and contributed a first version back in March, and we just sent a second version in November.
In essence, our integration consists in:
For more details, you can read the cover letter of the patch series.
SELinux support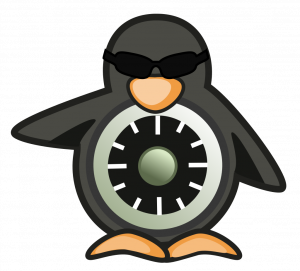 SELinux is a Linux security module that implements Mandatory Access Control and that is generally pretty infamously known in the Linux user community for being difficult to use and configure. However, it is widely used in security-sensitive systems, including embedded systems and as such, makes sense to see supported in OpenWrt. For example, SELinux is already supported in the Yocto/OpenEmbedded ecosystem through the meta-selinux layer, and in the Buildroot project since 2014, contributed by Collins Aerospace.
In short, the basic principle of SELinux is that important objects in the system (files, processes, etc.) are associated to a security context. Then, a policy defines which operations are allowed, depending on the security context of who is doing the operation and on what the operation takes place. This policy is compiled into a binary policy, which is loaded into the kernel early at boot time, and then enforced by the kernel during the system life. Of course, around this, SELinux provides a wide range of tools and libraries to manipulate the policy, build the policy, debug policy violations, and more.
The SELinux support in OpenWrt comes in two parts: a number of additional packages for various libraries and applications, and some integration work in OpenWrt. We will cover both in the next sections. It is worth mentioning that our work does not provide a SELinux policy specifically modified or adjusted for OpenWrt: we simply use the SELinux reference policy, which users will have to tune to their needs.
SELinux-related packages
Getting SELinux to work required a number of new packages to be added in OpenWrt. Those packages were contributed to the community-maintained package feed at https://github.com/openwrt/packages/. They were initially submitted through the mailing list, and then submitted as a pull request.
In short, it contains:
SELinux integration
Our second patch series, for OpenWrt itself, allows to build a SELinux-enabled system thanks to the following changes:
Conclusion
Integrating those two security features in OpenWrt required numerous changes in the build system, and the corresponding patches are still under review by the OpenWrt community. We hope to see these features merged in 2020.