The Embedded Linux Conference 2011 took place between April, 11th and April, 13th in its now usual place, the Kabuki hotel in San Francisco, California. It was the first edition organized since the merge of the CE Linux Forum into the Linux Foundation. During three days, three parallel tracks of talks and BoFs about technical topics around embedded Linux : kernel support, power management, build systems, file systems, real-time, and more.
As usual, part of the Bootlin team was at this Embedded Linux Conference, in order to keep up with the latest developments from the embedded Linux community. Gregory Clement (left on the picture), Maxime Ripard (right on the picture) and myself (center on the picture) were present, and we recorded all talks of the conference. And just a little bit more than one month later, we are ready to announce that all videos are now available online, in 1080p high-definition, and in a lower 450p resolution, encoded with the new VP8 codec.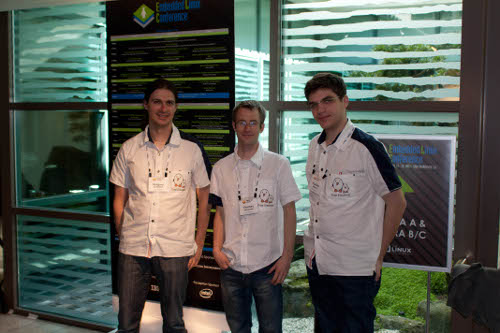 Amongst all the conferences below, each of us have selected the three ones we thought were the most interesting ones (note that the top three for each us is necessarily composed of distinct talks, as none of us have seen the same talks since we had to record talks from three different sessions in parallel) :
For Gregory Clement, the top three is: Yoshiya Hirase talk about Faster Resume For More Energy Savings on MeeGo, Arnd Bergmann talk about Optimizations For Cheap Flash Media (which follows Arnd article on the same topic in LWN) and a set of three related talks about the video infrastructure in the Linux kernel, that Gregory recommends to watch in this order: Media Controller Framework (MCF) For OMAP2+ Display Subsystem (Sumit Semwal), Video4linux: Progress, New videobuf2 Framework and the Future (Hans Verkuil) and Bringing up HDMI Display for OMAP4 Panda Board – Design, Challenges and Lessons Learned (Mythri pk).
For Maxime Ripard, the top three is: John Stultz talk about Android for servers, Mike Anderson talks about ARM NEON and GPU programming, Wolfram Sang talk about Helping the process
For myself, the top three is: Jesse Barker talks about the ARM Graphics ecosystem which gives a nice overview of the state of this topic, Hai Shalom talk about PCD (which is an original and interesting replacement for init), Dave Stewart talk about The Yocto Project and its Application Development Toolkit (because it gives details on how Yocto is supposed to be used for application development, a topic I'm interested in as a Buildroot developer)
It is also worth noting that this Embedded Linux Conference was co-located with the first edition of the Android Builders Summit, for which we will soon publish videos as well. The next embedded Linux conference will take place in Europe, in Prague from October 26th to 28th, co-located with the first edition of LinuxCon Europe and just after the Kernel Summit. Prague will really be full of Linux developers during this end of October, it's time to book this week on your agenda as well !

In agreement with the speakers, these videos are released under the terms of the Creative Commons Attribution-ShareAlike 3.0 license.
Finally, the list of all videos of Embedded Linux Conference 2011, along with their corresponding slides :
Tim Bird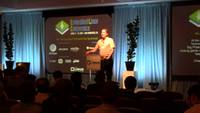 Sony Network Entertainment
Welcome Keynote
Video (10 minutes):
full HD (131M), 450×800 (43M)
Dirk Hohndel, Richard Purdie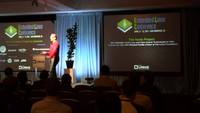 Intel, Linux Foundation
The Yocto Project
Video (35 minutes):
full HD (458M), 450×800 (140M)
Keshava Munegowda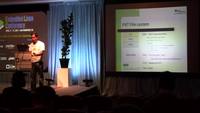 Texas Instruments
Power Fail Safe FAT File Systems
Slides
Video (48 minutes):
full HD (693M), 450×800 (203M)
Frank Rowand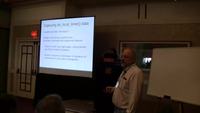 Sony
Identifying embedded real-time issues: I-cache and locks
Slides
Video (46 minutes):
full HD (471M), 450×800 (147M)
Bruno Cardoso Lopes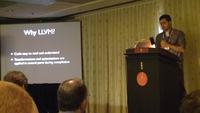 University of Campinas
LLVM, Clang and Embedded Linux Systems
Slides
Video (50 minutes):
full HD (593M), 450×800 (164M)
Steven Rostedt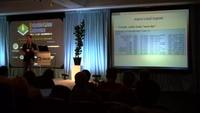 RedHat
Kernel Shark Tutorial
Video (49 minutes):
full HD (743M), 450×800 (215M)
Kang Dongwook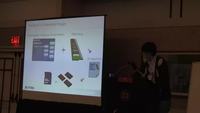 ETRI
Snapshoot Booting on Embedded Linux
Slides
Video (33 minutes):
full HD (284M), 450×800 (95M)
Khem Raj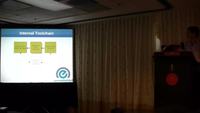 State of OpenEmbedded Internal Toolchain and SDKs
Slides
Video (41 minutes):
full HD (289M), 450×800 (119M)
David Rusling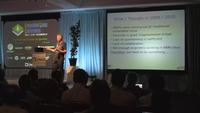 Linaro
Linaro: a year of change
Slides
Video (50 minutes):
full HD (529M), 450×800 (173M)
Hai Shalom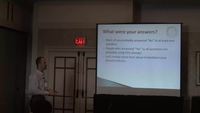 Atheros
Control, recover and debug your embedded product with PCD
Slides
Video (50 minutes):
full HD (470M), 450×800 (160M)
Gene Sally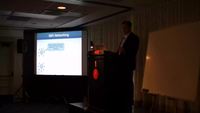 Zigbee Networking and Linux
Video (53 minutes):
full HD (262M), 450×800 (139M)
Xi Wang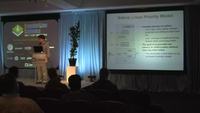 Broadcom
Solving real-time scheduling problems with RT_PREEMPT and deadline-based scheduler
Slides
Video (43 minutes):
full HD (422M), 450×800 (141M)
Mike Anderson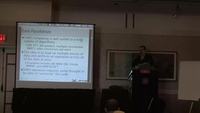 The PTR Group
ARM Neon instruction set and why you should care
Slides
Video (53 minutes):
full HD (527M), 450×800 (169M)
Darren Hart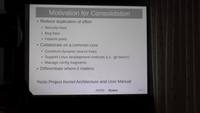 Intel
Yocto Project: Practical Kernel Development Tutorial
Video (52 minutes):
full HD (551M), 450×800 (196M)
Arnd Bergmann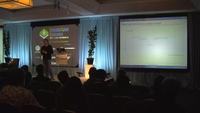 IBM
Optimizations for cheap flash media
Slides
Video (49 minutes):
full HD (482M), 450×800 (160M)
Wolfram Sang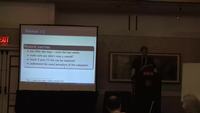 Pengutronix
Developer's diary: helping the process
Slides
Video (39 minutes):
full HD (315M), 450×800 (112M)
Rajesh Lal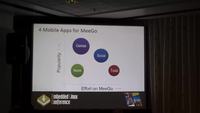 Nokia
Fun with QML and Javascript
Slides
Video (39 minutes):
full HD (250M), 450×800 (108M)
Thomas Gleixner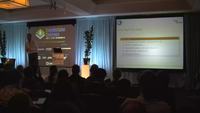 Linutronix
RT-Preempt: what's the state and why there is no roadmap
Slides
Video (46 minutes):
full HD (447M), 450×800 (149M)
Jason Kridner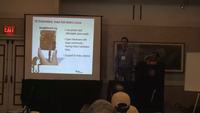 Texas Instruments
High-level web interface to low-level I/O on the BeagleBoard
Slides
Video (36 minutes):
full HD (370M), 450×800 (115M)
Arnd Bergmann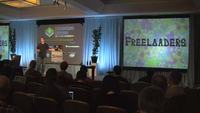 IBM
Becoming part of the Linux kernel community
Slides
Video (34 minutes):
full HD (376M), 450×800 (126M)
Paul Mundt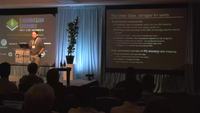 Renesas
Working with hardIRQs: life beyond static IRQ assignments
Slides
Video (36 minutes):
full HD (330M), 450×800 (113M)
Amit Kucheria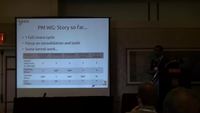 Linaro
Powerdebugging inside Linaro
Slides
Video (46 minutes):
full HD (309M), 450×800 (136M)
Mike Anderson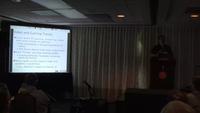 The PTR Group
High-performance computing using GPUs
Slides
Video (57 minutes):
full HD (615M), 450×800 (185M)
Paul Larson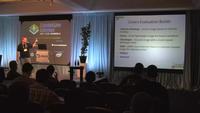 Canonical
Linaro automated validation on ARM
Video (51 minutes):
full HD (581M), 450×800 (184M)
Dave Stewart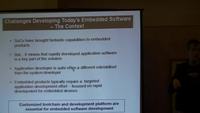 Intel
The Yocto project and its application development toolkit (ADT) – The answer to effective embedded application development
Video (42 minutes):
full HD (362M), 450×800 (139M)
Damian Hobson Garcia, Katusya Matsubara, Takanari Hayama, Hisao Munakata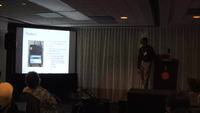 Igel
Integrating a Hardware Video Codec into Android Stagefright using OpenMAX IL
Slides
Video (55 minutes):
full HD (564M), 450×800 (177M)
Koen Kooi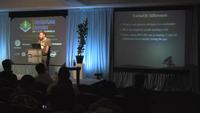 Texas Instruments
Integrating OpenEmbedded and Yocto
Slides
Video (52 minutes):
full HD (465M), 450×800 (159M)
Mark Gross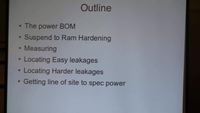 Intel
How to power tune a device running on a Linux kernel for better suspend battery life
Slides
Video (49 minutes):
full HD (273M), 450×800 (129M)
Remi Lorriaux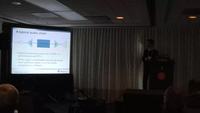 Adeneo Embedded
Real-time audio on embedded devices
Slides
Video (44 minutes):
full HD (437M), 450×800 (138M)
Magnus Damm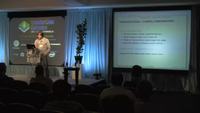 Runtime PM: upstream I/O device power management
Slides
Video (53 minutes):
full HD (486M), 450×800 (164M)
Jesse Barker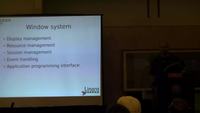 Linaro
Linux graphics meets the ARM ecosystem
Slides
Video (50 minutes):
full HD (329M), 450×800 (147M)
David Anders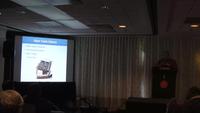 Texas Instruments
Board bringup: open-source hardware and software tools
Slides
Video (38 minutes):
full HD (376M), 450×800 (118M)
John Williams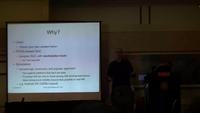 PetaLogix
Dynamic co-simulation of FPGA-based systems on chip
Slides
Video (57 minutes):
full HD (567M), 450×800 (198M)
Summit Semwal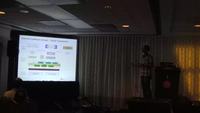 Texas Instruments
Media Controller Framework (MCF) for OMAP2+ display subsystem
Slides
Video (49 minutes):
full HD (518M), 450×800 (155M)
John Stultz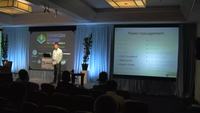 IBM
Android for servers?
Slides
Video (37 minutes):
full HD (425M), 450×800 (137M)
Anand Gadiyar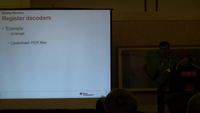 Texas Instruments
Tools and techniques for debugging embedded systems
Slides
Video (30 minutes):
full HD (139M), 450×800 (81M)
Hans Verkuil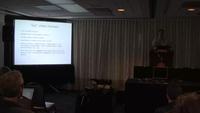 Cisco
Video4linux: progress, new videobuf2 framework and the future
Slides
Video (56 minutes):
full HD (534M), 450×800 (171M)
Yoshiya Hirase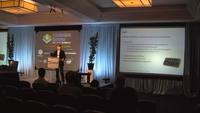 Nokia
Faster resume for more energy saving on MeeGo
Slides
Video (58 minutes):
full HD (727M), 450×800 (218M)
Jake Edge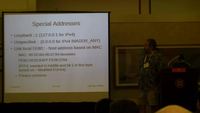 Linux Weekly News
What embedded Linux developers should know about IPv6
Slides
Video (46 minutes):
full HD (266M), 450×800 (122M)
Grégoire Gentil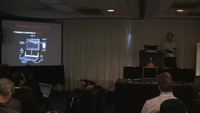 Always Innovating
Hot multi-OS switch: how to run Ubuntu, ChromiumOS, Android at the same time on an embedded device
Video (61 minutes):
full HD (515M), 450×800 (174M)
Xi Wang

Broadcom
Controlling memory footpring at all layers: Linux kernel, applications, libraries and toolchain
Slides
Video (38 minutes):
full HD (511M), 450×800 (152M)
Tom Zanussi, Saul Wold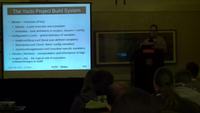 Building custom embedded images with Yocto
Slides
Video (49 minutes):
full HD (500M), 450×800 (173M)
Philip Balister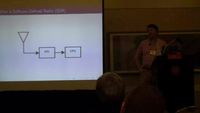 Open SDR
A high performance interface between the OMAP3 and a FPGA
Slides
Video (51 minutes):
full HD (347M), 450×800 (149M)
Jean Pihet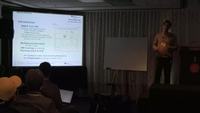 NewOldBits.com
The evolution of tracing and profiling for power management and accelerators
Slides
Video (40 minutes):
full HD (428M), 450×800 (133M)
Elizabeth Flanagan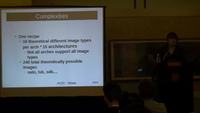 Intel
Delivering predictability: the Yocto project autobuilder, automated sanity testing, license collection and build statistics tracking
Slides
Video (48 minutes):
full HD (241M), 450×800 (133M)
Mythri pk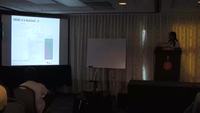 Texas Instruments
Bringing up HDMI display for OMAP4 Panda board: design, challenges and lessons learned
Slides
Video (40 minutes):
full HD (363M), 450×800 (122M)
Khem Raj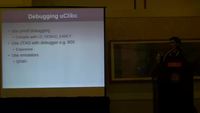 Debug/develop uClibc with QEMU
Slides
Video (35 minutes):
full HD (226M), 450×800 (98M)
Gunter Ravi Sankar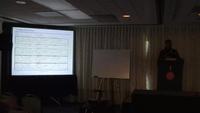 Samsung
What are and how to find a program's unused DSOs
Slides
Video (49 minutes):
full HD (453M), 450×800 (143M)