Back in early 2018, Bootlin started a crowd-funding campaign to fund the development of an upstream Linux kernel driver for the VPU found in Allwinner processors. Thanks to the support from over 400 contributors, companies and individuals, we have been able to bring support for hardware-accelerated video decoding in the mainline Linux kernel for Allwinner platforms.
From April 2018 to end of 2019, Paul Kocialkowski and Maxime Ripard at Bootlin worked hard on developing the driver and getting it accepted upstream, as well as developing the corresponding user-space components. We regularly published the progress of our work on this blog.
As of the end of 2019, we can say that all the goals defined in the Kickstarter have been completed:
We have an upstream Linux kernel for the Allwinner VPU, in drivers/staging/media/sunxi/cedrus, which supports MPEG2 decoding (since Linux 4.19), H264 decoding (since Linux 5.2) and H265 decoding (will be in the upcoming Linux 5.5)
We have a user-space VA-API implementation called libva-v4l2-request, and which allows to use any Linux kernel video codec based on the request API.
We have enabled the Linux kernel driver on all platforms we listed in our Kickstarter campaign: A13/A10S/A20/A33/H3 (since Linux 4.19), A64/H5 (since Linux 4.20), A10 (since Linux 5.0) and H6 (since Linux 5.1, contributed by Jernej Skrabec)
This means that the effort that was funded by the Kickstarter campaign is now over, and from now on, we are operating in maintenance mode regarding the cedrus driver: we are currently not actively working on developing new features for the driver anymore.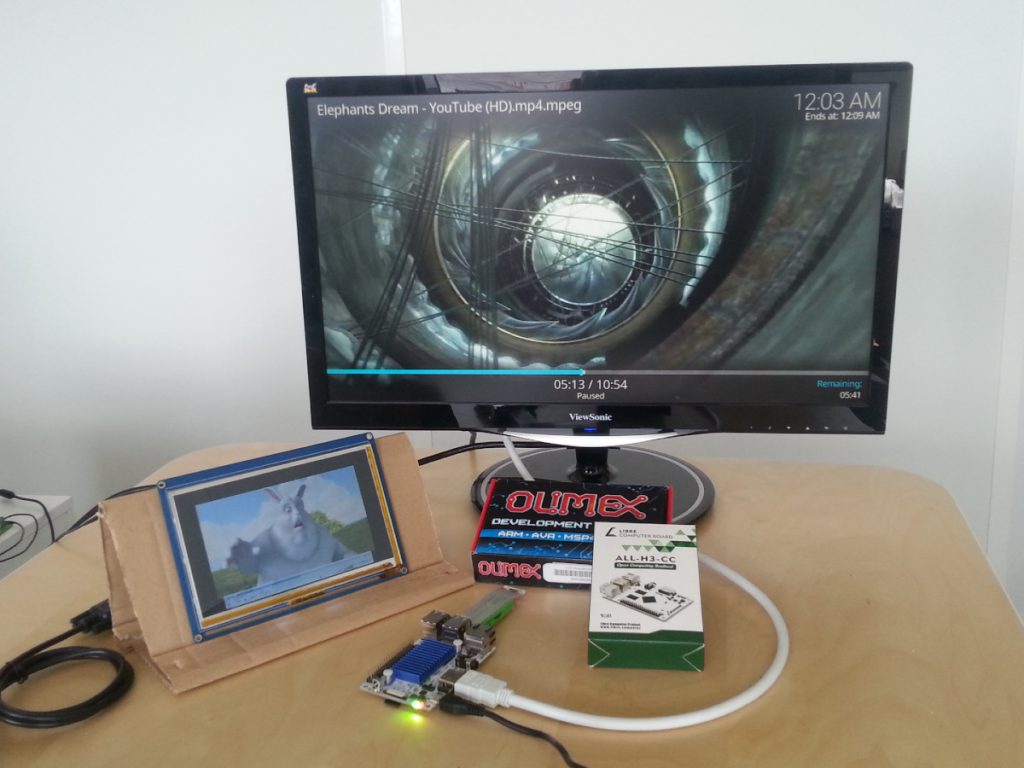 Of course, there are plenty of additional features that can be added to the driver: support for H264 encoding, support for high-profile H264 decoding, support for other video codecs. Bootlin is obviously available to develop those additional features for customers, do not hesitate to contact us if you are interested.
Overall, we found this experience of funding upstream Linux kernel development through crowd-funding very interesting and we're happy to have been successful at delivering what was promised in our campaign. Looking at the bigger picture, the Linux userspace API for video decoding with stateless hardware codecs in V4L2 has been maturing for a while and is getting closer and closer to being finalized and declared a stable kernel API: this project has been key in the introduction of this API, as cedrus was the first driver merged to require and use it. Additional drivers are appearing for other stateless decoding engines, such as the Hantro G1 (found in Rockchip, i.MX and Microchip platforms) or the rkvdec engine. We are of course also interested in working on support for these VPUs, as we have gained significant familiarity with all things related to hardware video decoding during the cedrus adventure.