Videos from the Embedded Linux Conference Europe, Grenoble, October 2009

Just a few weeks before the next edition of the Embedded Linux Conference in San Francisco, here are the videos from the previous edition in Europe a few months ago.
These videos were shot by Satoru Ueda and Tim Bird (Sony), Ruud Derwig (NXP) and by Thomas Petazzoni and Michael Opdenacker (Bootlin). As usual, they are released under the terms of the Creative Commons Attribution – ShareAlike Licence version 3.0.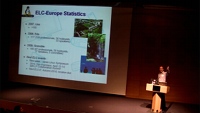 If you have never been to an Embedded Linux Conference yet, these videos should show you how useful this conference is for embedded Linux system developers. This is the place where you can discover new development tools and technologies that will change your working life, benefit from the experience from your peers, get the opportunity to talk to the fantastic people who implement the Free and Open Source software that makes your system run, and win cool penguin goodies. So, don't miss next next edition in San Francisco.