Useful device when you work with an embedded development board
For our Embedded Linux training sessions, I was looking for a USB to Ethernet device. Since Linux supported devices are often difficult to find, I'm glad to share my investigations here.
When you use an embedded development board, you must connect it to your computer with an Ethernet cable, for example to transfer a new kernel image to U-boot through tftp, or to make your board boot on a directory on your workstation, exported with NFS.
You could connect both the board and computer to your local network, which would still allow your computer to connect to the Internet while you work with the board. However, you may create conflicts on your local network if you don't use DHCP to assign an IP address to your board (if your DHCP server even accepts this new device on the network). In a training environment, you are also likely to run out of Ethernet outlets in the training room if you have to connect 8 such boards. Hence, a direct connection between the board and your workstation's Ethernet port is often the most convenient solution.
If you can't use WIFI to keep your computer connected to the outside world, a good solution is to add an extra Ethernet port to your computer by using an USB-to-Ethernet device.
My colleague Thomas and I started looking for such devices that would be supported by Linux. Here are a few that we found: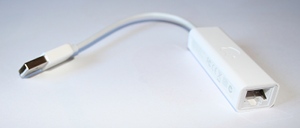 So, I recommend the Apple device. I event posted a comment on the Apple Store, titled "Perfect for Linux"! I hope the Apple droids won't censor it. Don't hesitate to buy it, so that we can confirm that the latest reference is supported too.
I can't tell whether this could happen with Apple. This was the first Apple device I ever bought…