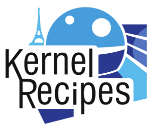 As we mentionned earlier on this blog, Bootlin participated to the second edition of the Kernel Recipes conference in Paris, a two-days conference dedicated to kernel topics.
The videos and slides of the talks in this conference have now been published, see https://kernel-recipes.org/en/2013/conferences/ for the complete list. There is a good number of interesting topics: discussion about kernel development environment by Willy Tarreau, status of Nftables and Netfilter in general by Eric Leblond, a talk explaning how to decipher kernel oopses, a talk about Crosstool-NG from Yann E. Morin, a discussion about Linux Security Modules, a talk about the status of Display support in the kernel by Laurent Pinchart, and several lightning talks.
The talks from Bootlin were:
Bootlin really enjoyed this conference, and is looking forward to participating again next year. Thanks a lot to the organizers!