Even though the bulk of the development on the Allwinner VPU support is done, we are still working on completing the upstreaming of the kernel driver, and some progress has been made recently on this topic:
On September 10, core Video4Linux developer Hans Verkuil sent a pull request to Video4Linux maintainer Mauro Carvalho Chehab to get the Cedrus driver merged. This means we're getting closer and closer to have the driver merged. Unfortunately, some last minute issues were found in the patch series, so this pull request wasn't merged.
On September 13, Bootlin engineer Maxime Ripard sent a new iteration of the Cedrus driver, version 10, which addresses those issues.
In addition, as the Allwinner platform maintainer, Maxime Ripard has merged the patches adding the Device Tree description of the Allwinner VPU, which reduces the Cedrus patch series to just 5 patches. They are now in the branch sunxi/dt-for-4.20, which should be part of the upcoming 4.20 Linux release.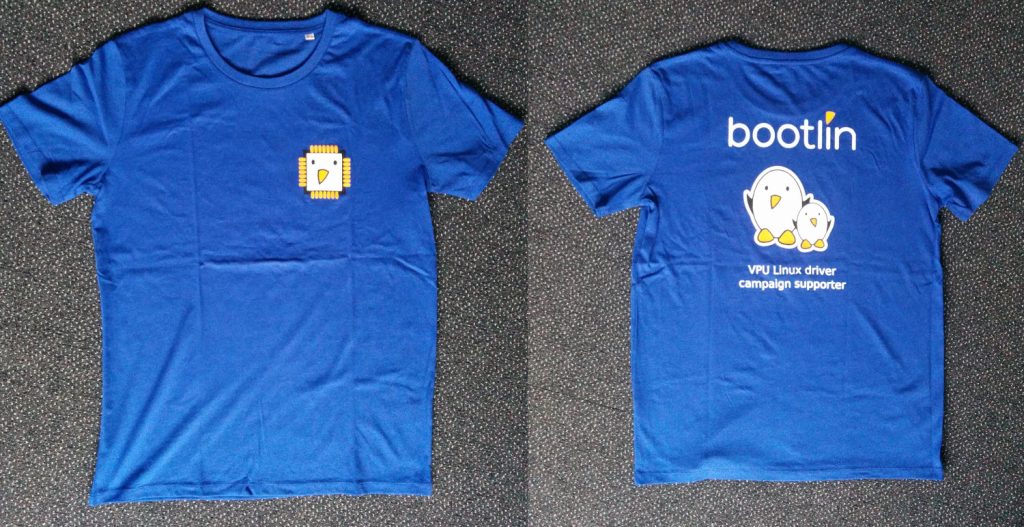 In addition to this progress on the Linux kernel driver upstreaming process, we also moved forward with delivering the perks to the companies and individuals who supported our campaign:
A CREDITS file has been added to the libva-v4l2-request base, thanking all our backers who pleged more than 16 EUR.
The T-Shirts for the backers who pledged more than 128 EUR have been sent to those in the EU. We are also working on sending the t-shirts to those outside the EU, but it takes a bit more time due to the need for customs declarations. Don't hesitate to take a picture of you with the T-Shirt, and post it on Twitter with the hashtag #VPULinuxDriverSupporter.