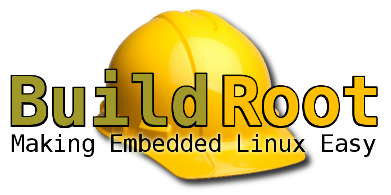 Last year, Bootlin launched a new training course on using the Yocto Project and OpenEmbedded to develop embedded Linux systems. In the selection of build system tools available in the embedded Linux ecosystem, another very popular choice is Buildroot, and we are happy to announce today that we are releasing a new 3 days training course on Buildroot!
Bootlin is a major contributor to the Buildroot upstream project, with more than 2800 patches merged as of May 2015 (including the ones contributed with our previous name). Our engineer Thomas Petazzoni alone has contributed more than 2700 patches. He has gathered an extensive knowledge of Buildroot and its internals, being one of the primary authors of the core infrastructures of Buildroot. He is a major participant to the Buildroot community, organizing the regular Buildroot Developer Days, supporting users through the mailing list and on IRC. Last but not least, Thomas acts as an interim maintainer when the main Buildroot maintainer is not available, an indication of Thomas strong involvement in the Buildroot project.
In addition, Bootlin has used and is using Buildroot in a significant number of customer projects, giving us an excellent view of Buildroot usage for real projects. This feedback has been driving some of our Buildroot contributions over the last years.
The 3 days training we have developed covers all the aspects of Buildroot: basic usage and configuration, understanding the source and build trees, creating new packages including advanced aspects, analyzing the build, tips for organizing your Buildroot work, using Buildroot for application development and more. See the detailed agenda.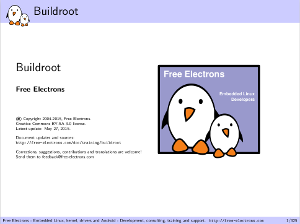 We can deliver this training course anywhere in the world, at your location (see our rates and related details). We have also scheduled a first public session in English in Toulouse, France, on November 30 to December 2. Contact us at training@bootlin.com if you are interested.
And finally, last but not least, like we do for all our training sessions, we are making the training materials freely available under a Creative Commons BY-SA license, at the time of the training announcement: the first session of this course is being given this week. For the Buildroot training, the available materials are:
Our materials have already been reviewed by some of the most prominent contributors to Buildroot: Peter Korsgaard (Buildroot maintainer), Yann E. Morin, Thomas De Schampheleire, Gustavo Zacarias and Arnout Vandecappelle. We would like to take this opportunity to thank them for their useful comments and suggestions in the development of this new training course.