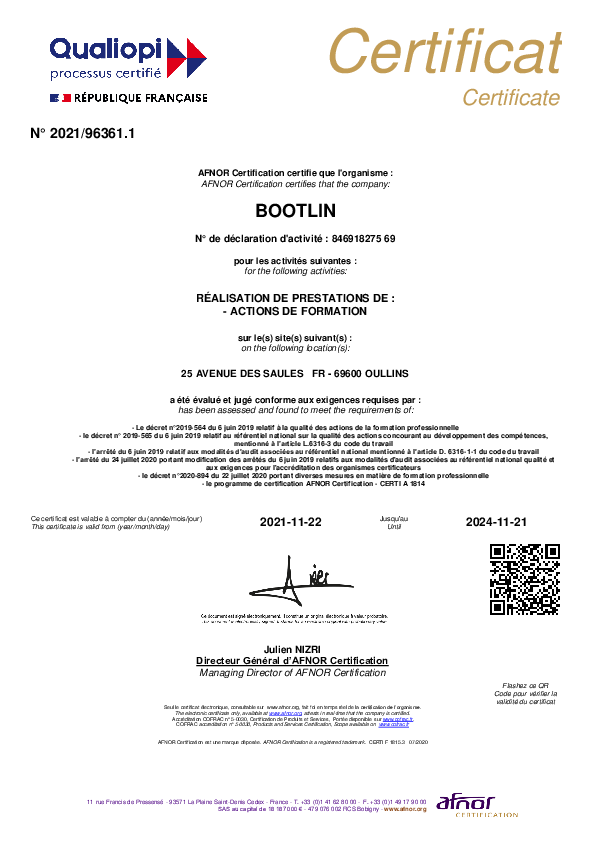 Bootlin has been delivering training courses in the field of Embedded Linux since its creation in 2004, delivering over 430 courses to more than 4500 engineers just since 2009, in over 40 countries, with a high-level of quality and a full transparency, with fully open training materials and publicly available training evaluations.
In France, a new quality certification brand for training and skills development service providers, called Qualiopi, has been created and is going to be needed starting January 1, 2022 for French training providers who want to deliver services to French customers who use public funding for training courses. For more details about Qualiopi, see this page in English, or the official page from the French Ministry, in French.
Bootlin has gone through the Qualiopi certification process, making a number of improvements to how we deliver and manage our training courses along the way, and we are happy to announce that Bootlin, at the first attempt, was successfully certified as a Qualiopi compliant training service provider. See our certificate, which can also be verified on the AFNOR certification authority website.
We are proud of this result, which shows our commitment to delivering high quality training courses to all our customers. Do not hesitate to look at our training courses portfolio and contact us if you are interested.