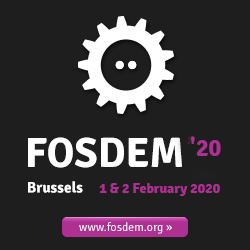 This week-end takes place one of the biggest and most important free and open-source software conference in Europe: FOSDEM. It will once again feature a very large number of talks, organized in several main tracks and developer rooms.
Bootlin CTO Thomas Petazzoni will participate to the FOSDEM conference, of course attending many of the talks from the Embedded, Mobile and Automative Devroom, to which he participated to the talk review and selection. Do not hesitate to get in touch with Thomas if you want to discuss career or business opportunities with Bootlin.
In addition, Thomas will also participate to the 3-day Buildroot Developers meeting which takes place in Brussels right after the FOSDEM conference, kindly hosted by Google. During 3 days, some of the core Buildroot developers will work together to discuss the future of Buildroot, as well as review and discuss pending patches and proposals.