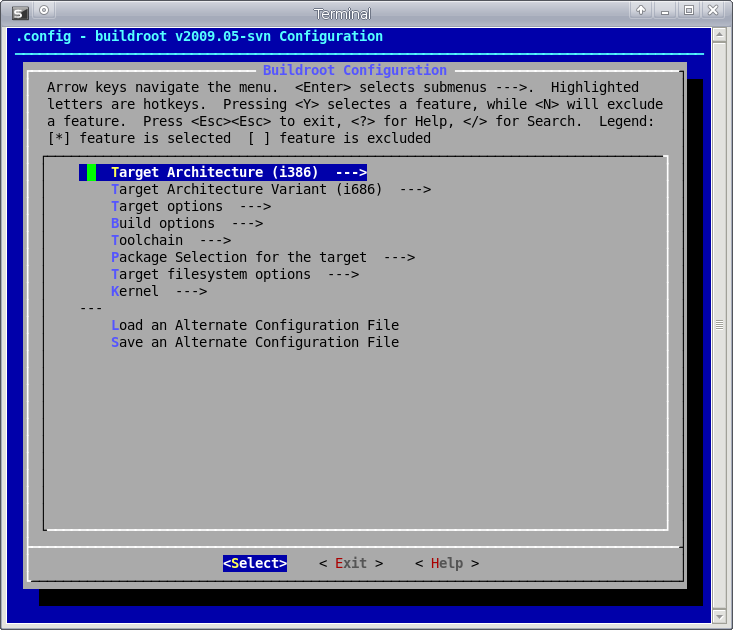 The Buildroot project has been around for a quite a while. For those just discovering Buildroot, it is a set of Makefiles that ease and automate the process of building a cross-compilation toolchain (based on the uClibc C library, since Buildroot has been initiated by uClibc developers) and a full embedded Linux system. Buildroot can compile over 600 packages : graphical libraries (Qt Embedded, Gtk, X.org, DirectFB), network servers (the Dropbear SSH server, several HTTP servers), and more), core components such as Busybox, DBUS, Avahi and many other free software packages that make sense on embedded systems. Of course, more packages can easily be added. Buildroot is very similar to PTXdist.
I remember using to this project and contributing to it back in 2004 when I still was an intern during my studies. One of my contributions was the writing of documentation for the project, which is still the official documentation. Since 2004, the project has evolved, but there was no clear maintainer and no stable releases. The developer community around Buildroot was not completely satisfied since no one was merging the proposed fixes and improvements, since there was no official maintainer. And Buildroot was difficult to use for users because it didn't offer any kind of stable releas : users had to pick a random SVN checkout and cross fingers to get a reasonably-working version.
In January 2009, as part of the traditionnal new year's resolution, Peter Korsgaard, one of the most active Buildroot developers, volunteered to step up as the official maintainer and to deliver releases. And indeed, he integrated many patches that were floating around, released several release candidates before releasing Buildroot 2009.02 on February, 12th. Since then he continues to make very interesting improvements to Buildroot, replies on the mailing list, review and merge the proposed patches. A new bug tracker has been set up, and the source code will soon be moved over the Git distributed version control system.
Definitely, it's a new life starting for the Buildroot project. As a long-time user and occasional contributor of the project, I'm glad to see such evolution.