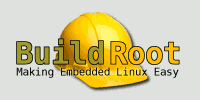 The first Buildroot Developer Day will take place on Saturday, October 17th in Grenoble, France, just the day after Embedded Linux Conference Europe. This Developer Day aims at allowing Buildroot developers to meet and exchange ideas on the project and its future.
As the number of places is limited, interested candidates are invited to send an e-mail to Peter Korsgaard (jacmet at uclibc dot org) and Thomas Petazzoni (thomas dot petazzoni at free-electrons dot com).
Peter Korsgaard and I are organizing this Developer Day thanks to the sponsorship of Calao Systems (offering the location for the meeting) and Bootlin (offering free lunch to the participants).
See also the announcement of the mailing list and on Buildroot website.