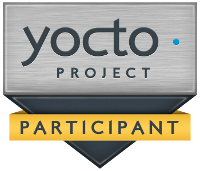 Earlier this month, Bootlin applied and was elected Yocto Project Participant by the Yocto Project Advisory Board. This badge is awarded to people and companies actively participating to the Yocto Project and promoting it.
We have mainly contributed to the meta-fsl-arm and meta-fsl-arm-extra layers but we also have some contributions in OpenEmbedded Core and in the meta-ti layer.
Bootlin offers a Yocto Project and OpenEmbedded training course that we can deliver at your location, or that you can attend by joining one of our public sessions. Our engineers are also available to provide consulting and development services around the Yocto Project, to help you use this tool for your embedded Linux projects. Do not hesitate to contact us!