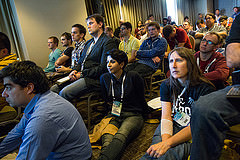 The Bootlin engineering team is back from a busy week at the Embedded Linux Conference 2015 in San Jose, California, last week. During this conference, we presented several talks, a BoF, and participated to the technical showcase with a Buildroot related demo:
Maxime Ripard gave a presentation about the DMAengine subsystem, and his slides are available as PDF.
Thomas Petazzoni gave a talk about The Device Tree as a stable ABI: a fairy tale?, and the slides are available as PDF.
Boris Brezillon gave a talk about MLC/TLC NAND support: (new ?) challenges for the MTD/NAND subsystem, the slides are available as PDF.
Our three talks were all given in front of fully packed rooms, even with a number of people standing in the room for some of them! We were glad to see that the topics we proposed did interest the ELC audience.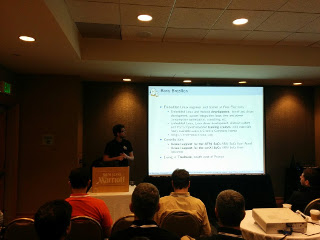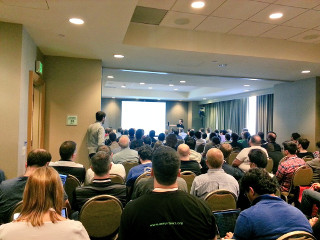 In addition to the talk, Thomas Petazzoni organized on Tuesday last week a BoF (Birds of a feather) session on Buildroot, during which approximately 15 persons showed up even though it wasn't announced in the official schedule. This session was useful to get some feedback from Buildroot users, and meet users and developers in person.
Finally, on Tuesday evening, during the technical show-case, we demo-ed the Buildroot capabilities using a setup that consisted in two platforms running Buildroot-generated systems: a Raspberry Pi 2 system that runs the Kodi media player software, and a Marvell Armada XP based OpenBlocks AX3 system that runs as a NAS providing contents for the media player. This demo was prepared by Buildroot contributor Yann E. Morin, and Bootlin engineer Thomas Petazzoni. The poster presented is available as PDF or SVG, and all the instructions to rebuild the two systems are documented at http://elinux.org/Buildroot:TechShowcase2015_Demo.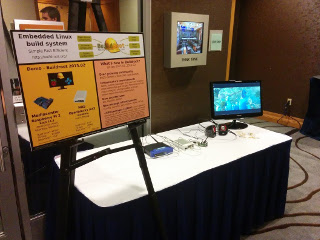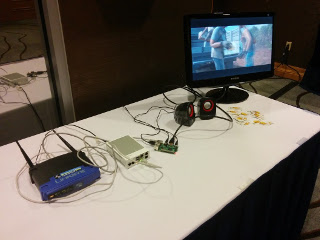 In addition, it is worth mentioning that all the slides from the Embedded Linux Conference are available at https://events.linuxfoundation.org/events/archive/2015/embedded-linux-conference/program/schedule and http://elinux.org/ELC_2015_Presentations. The talks have been video recorded by the Linux Foundation, and hopefully unlike to what happened to the ELCE 2014 videos, the ELC 2015 videos will really appear online at some point in the future.
The location of the next Embedded Linux Conference was also announced, and it will take place in San Diego next year. It is the first time that the Embedded Linux Conference US edition moves outside of the Silicon Valley!