Penguin New Year wishes and good reasons for using Free Software in 2006
Bootlin wishes a Happy New Year to embedded system developers and to all members of the Free Software and Open Source community.
Unlike other birds…
Penguins never freeze!
While most others stay locked in a cozy shelter…
In 2006,
with a penguin,
you can reach out,
withstand extreme conditions,
and pioneer an exciting world of opportunities!
Happy New Year!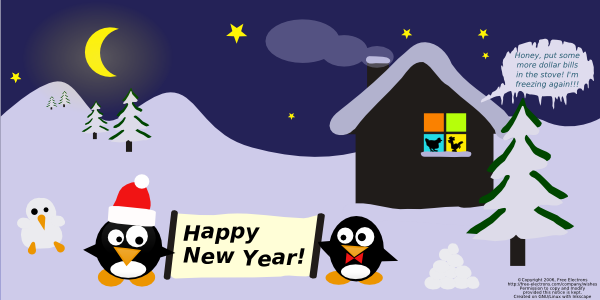 License: right to copy and modify if the copyright notice is kept. Graphic elements (trees, cottage…) can be copied and modified with no restriction (Public Domain).
Source (Scalable Vector Graphics, created with Inkscape) and generated files can be found here. Rooster, hen and penguin graphics come from the Open Clip Art project.
Contributed 3 reusable graphics (cottage, Christmas hat and pine tree) back to Open Clip Art.
New presentation
To make these wishes come true, Bootlin has also released a new presentation collecting the main strengths (and weaknesses too) of Free Software in embedded systems. It should help to make the decision to (or not to) rely on penguins in 2006 and in the years to come.