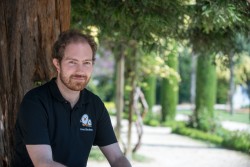 Antoine joined Bootlin in 2014 and has 5 years of experience working with Linux in embedded systems. His expertise spreads across the Linux kernel and build systems such as OpenEmbedded (the Yocto project) or Buildroot. Prior to joining Bootlin he also worked on low level Android system development.
Linux kernel development experience
Antoine has been working to support network controllers and cryptographic engines in the upstream kernel. As part of this he worked on Marvell EBU SoCs.
Antoine has pioneered the support for the Marvell Berlin ARM processors in the Linux kernel. As part of this effort he wrote and improved drivers for clocks, pin-muxing, NAND controller, Ethernet controller, PHYs, PWMs, ADCs and enabled various features of the SoCs.
Antoine has contributed the support for Annapurna's ARM64 Alpine v2 platform, and is the co-maintainer of the support for the Alpine platform in the official Linux kernel.
See all his contributions to the upstream Linux.
Bootloader development experience
Antoine contributed the support of the TI816x EVM board in the official U-Boot project. He also worked on other projects involving the U-Boot bootloader, adding support for PSCI functions and other developments.
See all his contributions to the upstream U-Boot.
Yocto and OpenEmbedded experience
Antoine has experience using the OpenEmbedded based build systems, such as Yocto. He has used this build system to develop and generate complete embedded systems for several customers.
Buildroot experience
Antoine is a trainer of our Buildroot development training and worked in several Buildroot based projects, generating custom images and adding support for packages into the build system.
See all his contributions to the upstream Buildroot.
Training experience
Antoine has given more than 15 trainings (50 days). He has been giving our Yocto project and OpenEmbedded development training, our Buildroot development training, our Android system development training as well as our Embedded Linux training.
He is the main author of our Yocto Project / Open Embedded training materials.
Speaking experience
Back to the Bootlin staff page.