Bootlin is a partner of the following companies.
Marvell
Bootlin is registered as an official software partner in Marvell Software Partner ecosystem. Bootlin has been working since 2012 on numerous Marvell system-on-chips, including the Marvell Armada 370, 38x, XP, Armada 7K/8K and Armada 37xx.
STMicroelectronics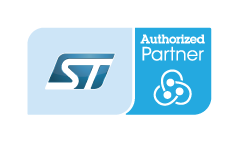 Bootlin is registered as an official software partner by STMicroelectronics, providing engineering and training services around the STM32 MPU products.
EBV Elektronik
EBV Elektronik is a leading distributor of electronic components. We've mainly worked with their Spanish offices so far, and could see their dedication to make their customers' projects successful. For example, they have already organized 6 Bootlin embedded Linux training sessions in Spain, and have also given us several opportunities to support their customers. It's also good for us to have tight relationships with EBV people, as it allows us to direct our customers to the right contact person and the best deals from a major distributor.