Upcoming sessions
No session planned in this location at the moment.
Contact: training@bootlin.com, phone: +33 484 258 097.
See also the other public sessions that we organize, in the same and in other locations. We can also organize a session at your own location.
Course details
Advanges of our public sessions
Here are the advantages of joining a Bootlin public session:
Number of participants limited to 10
One PC and embedded board per participant
(you are not asked to work with another participant)
Embedded board given away to each participant
Objectives and target audience
This course targets engineers who wish to use the Linux system in new embedded projects, and people supporting customers developing such systems. In five days, through theory and practical labs, the course makes you familiar with the architecture of an embedded Linux system, how to build such a system, how to take advantage of open source components to implement system features and reduce development costs, and details how to develop and debug your own applications in an embedded environment.
At the end of this course, you will be ready to start a project using embedded Linux, from system building to application development.
Outline
Here are the main topics that we cover:
Introduction to embedded Linux
C libraries. Building a cross-compiling toolchain
Bootloaders. Focus on U-boot.
Configuring, (cross)compiling and booting a Linux kernel
Creating a simple, BusyBox based root filesystem from scratch
Block filesystems
Flash storage and filesystems
Cross-compiling libraries and applications
Embedded system building tools
Lightweight tools for embedded systems. Graphical toolkits
Developing and debugging applications for the embedded system
Implementing realtime requirements
Note that a 4-day variant of this course exists, without the lectures and practical labs about flash storage and real-time.
See our agenda for content details.
All the training materials we use during this course are freely available. Before the session, you can then check that they correspond to your needs.
Practical labs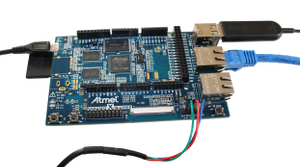 Each lecture in our course is followed by a practical implementation, representing 50% to 60% of the whole course time. Labs are performed on an embedded ARM board (SAMA5D3 Xplained board from Microchip, based on a Cortex A5 processor), on which you will progressively implement an embedded Linux system.
The electronic board is yours to keep at the end of the session. Even long after the course, this allows you to continue to learn and experiment using a well known working base. You can even use your board and what you created during the course to develop your own prototypes.
The Microchip SAMA5D3 Xplained board is a low power yet powerful embedded board with very complete connectivity. It will allow you to develop all sorts of prototypes. You could even use it as a server!
Prerequisites
Participants need to be familiar with the UNIX or Linux command line interface. Those who aren't are asked to do some self training on the topic, for example by using our training materials. This way, they won't waste time during practical labs because of issues using the operating system environment.
Customer feedback

This course filled in the gaps in my previous knowledge regarding to the embedded Linux development. Spoken lessons gave me loads of detailed information about which tools to use, what to do, how to do it, what not to do and why. Lab works gave me a lot of good ideas to problem solving at the topics on my every day work.

Mika Hillukkala – Etteplan Embedded Finland Oy
By the way, you can also see evaluations from previous sessions. In the same way we are transparent with our training materials, we share all the evaluations that we collect, not only the best ones.
Language
See the list of sessions on top of the page to check in which oral language each session will be given.
The training materials are available only in English language.
Trainers
All our trainers spend most of their time on customer projects or on Open Source projects. Our engineer will therefore have solid on-the-job experience to share.
For further details about our trainers, see our trainers page.
Location
The session will happen in Avignon, in the Mercure Pont d'Avignon Centre Hotel in the historical center, 100 m away from the Popes Palace.
Address: Rue Ferruce, Quartier Balance, 84000 Avignon, France
Phone: +33 490 809 393
GPS: N 43° 57′ 6.73″ E 4° 48′ 20.65″
Caution: there is another Mercure hotel less than 150 meters away. Make sure you go to the "Mercure Pont d'Avignon" one.
You can reach Avignon:
From Marseille's airport. You can come by car (approximately 1 hour), or by public transportation (shuttle + train, 60 to 90 minutes.
By train from many cities in France, in particular with the TGV fast train. This way you can arrive in Lyon, Paris or Geneva, and take the TGV fast train to reach Avignon in less than 3 hours.
See all practical details about how to reach Avignon.
Environment
The Avignon area is perfect to go out in the evening or during the week-end. You are in the heart of Provence, a region that attracts visitors from the entire world. Details.
Last but not least, Avignon is 2 hours and 40 minutes away from Paris with the TGV fast train. You may land in Paris, go to Avignon for the week, and get back to Paris for the week-end before you leave France.
Schedule
This course is from Monday to Friday (five days), from 9:00 am to 6:00 pm. If some participants have to leave earlier on the last day, we can make sure that all key lectures and labs are complete by 4:00 pm on that day.
Cost
Our rate includes the course, laptop rental, lunch as well as morning and afternoon breaks. Each participant walks away with his own electronic board.
Note that dinner, breakfast, accommodation, and traveling costs are not included in our price. Each participant will have to pay for such expenses by themselves.
Discount
A discounted rate of 300 € is available:
For extra people from the same company (condition: unique invoice for all participants)
For any registration confirmed at least 2 months before the session starts.
For individuals who pay the whole training cost and traveling expenses by themselves (without any refund from their company, and without public funding). This compensates for the fact that we have to add 20% V.A.T. to their training costs.
Registration
To pre-register one or several individuals, please contact training@bootlin.com and tell us the dates and location of the session you are interested in.
We will then send you a registration form to collect all the details we need to send you a quote.
You can also ask all your questions by calling +33 484 258 097.
If the emergency of training needs matters more than the costs, or if you have enough people to train, you may also consider ordering an on-site session. You can then choose the date and location, according to the availability of our trainers.
Questions and answers
Q: May I leave a little earlier on the last day?
A: Yes, it's possible. The agenda makes sure most important topics are covered by 3:00 pm on the last day. Anyway, we can still keep you busy until 6:00 pm.
Q: Do I have to pay training expenses ahead of time?
A: With most companies, this is not needed, and this makes last minute registrations quick and easy. We just need a formal commitment from you (a Training Convention for French customers, or a purchase order for other customers).
Q: The session is just in a few days. Isn't it too late to register?
A: Not necessarily, if there are still seats left. We can process your request quickly if your company can make a decision quickly too.
Q: I am quite new to Linux. Won't I get lost if I register?
A: It's true that our courses require basic skills in the Unix/Linux command line. Some self training with our Unix command line slides will definitely make you more productive during the sessions. However, lots of Linux beginners have already done all right without this, thanks to our help during the courses and thanks to our command memento sheet.
Q: How to arrive from Marseille's airport?
A: You can either rent a car, or take public transportation. All details here.
Q: Can I reach Avignon by taxi?
A: It is of course fine to take a taxi to reach Avignon, but it is likely to be an hour drive, as Avignon is 80 km (50 mi) far from the airport. It may cost between 150 and 200 EUR. Traveling by train would be cheaper, though you can expect more waiting time.
Q: How easy is it to travel to Marseille? Are low-cost flights available?
A: Marseille is one of the biggest airports in France in terms of traffic. There are lots of direct flights from many European cities, and from most capitals, including a significant number of low-cost flights. Depending on where you are, it could be cheaper to fly to Marseille that to other parts of your country! However, if flights to Marseille turn out to be inconvenient in terms of time, you can also fly to Lyon, Paris or Geneva, and take the TGV fast train to reach Avignon in less than 3 hours.
Q: Would you have any hotel to recommend?
A: Yes. We recommend to stay at the Mercure Pont d'Avignon Centre hotel where the course takes place. This hotel can also offer a discounted rate to participants to our sessions (depending on how full the hotel is, just ask). That's why we advise you to book your room by calling the hotel. If the on-line booking system tells you that there are no available rooms left, you can still tell the hotel crew that you participate to the training session, and they will do their best to find a room for you. For example, they can swap rooms booked by tour operators with the other Mercure hotel 200 meters away. If the hotel is really full, you may also try other very close hotels in the historical center of Avignon: Mercure Cite des Papes, Hotel de l'Horloge, Kyriad Avignon Palais des Papes or Hotel du Palais des Papes. Many more hotels are available in Avignon, if you are ready to walk 5 to 10 minutes more (the training venue is within walking distance from all hotels within the city walls). This way, you will even be able to find decent hotels starting at about 50 EUR per night.
Q: Should I rent a car?
A: If you are interested in visiting Provence in the evenings or during the week-ends, we strongly recommend to rent a car if you can. Unfortunately, public transportation is not well developed there, and you would have trouble getting back to Avignon after going out in the evening. On the other hand, if you prefer to stay at your hotel, relax and just visit Avignon by foot, you won't need a car.
Further details about our courses